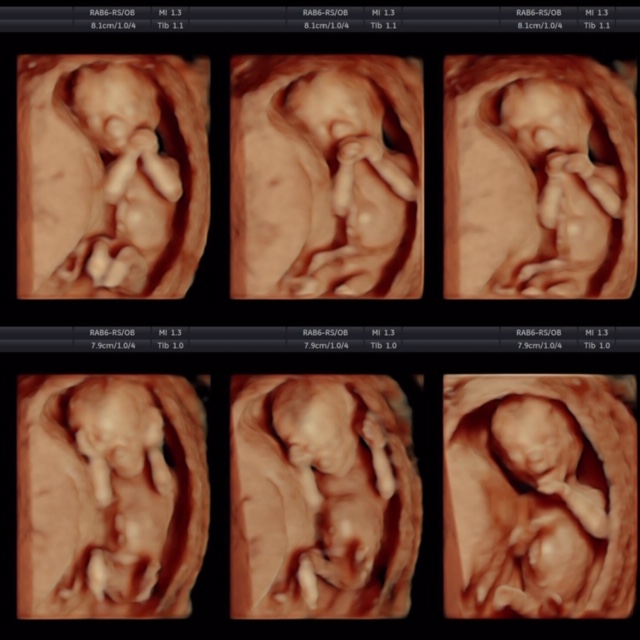 HD Live is the latest in ultrasound technology. The use of 3d & 4d imaging allows you to:
See features of baby
More realistic view of baby
Smoother, incredibly detailed and true to life image of baby.
In addition, the technology available includes a virtual flashlight that can be used to enhance images shading and lightening baby's features. See the video below for an example of a light source in motion.
HD Live Ultrasound Shows Baby with Remarkable Clarity
Ultrasound technology is constantly evolving and improving. The latest technology, HD Live, is is true breakthrough in ultrasound capability.
At Reveal, we are able to image babies with amazing detail. It is so fun to watch the reaction on the faces of expectant families and their guests when baby moves around in a view as realistic as having a camera in the womb!
Ultrasound has a lot to offer in all aspects of imaging capabilities.
Difference Between HD Live and 2D/3D/4D Ultrasound
2D ULTRASOUND
2D Ultrasounds are the traditional Black & White ultrasounds that have been around for 20+ years that most people are familiar with. Used mainly in determining gender, they show the skeletal structure of baby and you can also see the baby moving.
This is the type of ultrasound your doctor uses for your DIAGNOSTIC ultrasound. It is still the best technology for gathering measurements of the baby and ensuring the baby is developing as expected.
3D ULTRASOUND
3D Ultrasounds show the tissue of baby, which looks more like a real picture. We can see the roundness of the baby's face, the shape of the nose, and the contours of the face (if the baby is in a position where it viewable and it's in view). The color in the images is not the actual color of the baby, it's computer enhanced to make the images a bit more appealing.
4D ULTRASOUND
With 4D Ultrasound technology, you can see the motion of the baby. If your baby has a large, clear pocket of amniotic fluid around his face, is moving about and is developed enough, then we can get great clips of motion to record on a DVD set to lullaby music. Check out our add ons at https://revealaz.com/
Looking For 3D/4D Ultrasound in Gilbert AZ?
We welcome you to look through our website, go through our packages, view our 3D/4D ultrasound gallery, and visit our studio. Give us a call or schedule online for your 3D/4D ultrasound appointment.