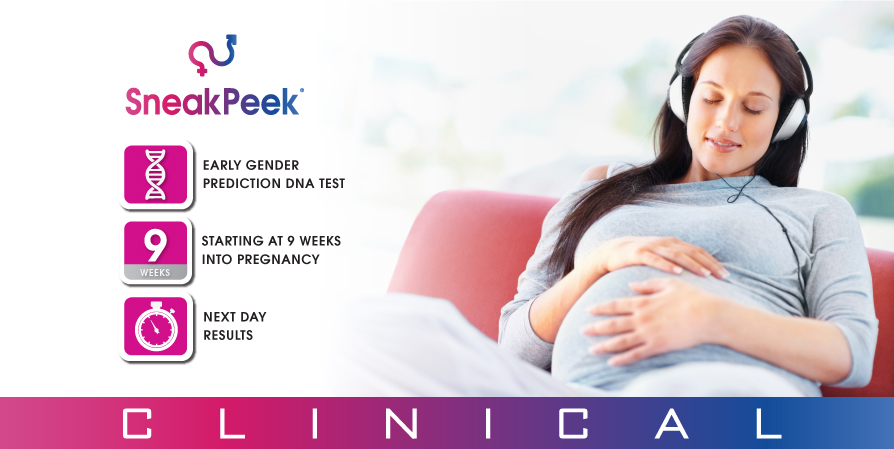 What is SneakPeek® Clinical?
SneakPeek Clinical is an early gender DNA detection test offered to women starting at 8 weeks into pregnancy. The genetic test gives you the first step to connect with your baby before you are able to see the exciting clear images from your ultrasound scans. The full service includes an on-site phlebotomist that draws a blood sample in the comfort of the ultrasound studio, and then returns the sample to SneakPeek Labs for processing. The laboratories offer the fastest turnaround times in the industry, with a choice of receiving your result the same day the sample reaches the SneakPeek Lab.
How Does SneakPeek® Work?
SneakPeek utilizes the natural process of shared fetal DNA circulating inside the mother's bloodstream. Our PCR technology has the ability to detect the presence or absence of male Y chromosome in the blood sample provided starting at 8 weeks into pregnancy. If it is detected then the baby's gender is male and if it is not detected then the baby's gender is female.
What is the DNA & Donuts™ Experience?
DNA & Donuts is a breakfast party for expectant mothers where they can find out the gender of their babies starting at 8 weeks! Our ultrasound studio hosts a unique SneakPeek Clinical social event on Thursdays 10-11am to bring pregnant moms together to share in their journey and to discover the gender of their babies through genetic DNA testing. Unlike any other blood test taken through pregnancy, this is a fun-filled experience with coffee, donuts, and great conversation.
Use the calculator to find out if you are 8 weeks:
http://sneakpeektest.com/calculator/
Ready to Schedule Your Gender DNA Test?
We welcome you to look through our website, go through our packages, view our 3D/4D ultrasound gallery, and visit our studio. Give us a call or schedule online for your gender DNA test.